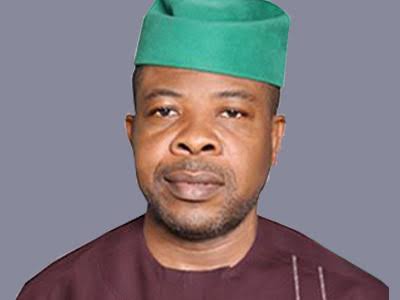 The Governorship candidate of the Peoples Democratic Party, PDP, in the next election in Imo State, Rt Hon Emeka Ihedioha has been described as a man propelled by Divine powers to restore the lost glory of Imo State when he mounts the saddle as the next elected Chief Executive of Imo State.
This was disclosed to Trumpeta yesterday in Owerri by Arch Chidi Okoli while speaking to the press.
The PDP stalwart from Arondizogu in Ideato North LGA said that for Ihedioha to be the Governor of Imo State will be the best thing that would have happened to Imo in the recent time, and therefore called on Imolites across party lines to rally behind the former Deputy Speaker of House of Representatives to be elected Governor of Imo come 2019.
Speaking further Okoli hinted that among all the candidates parading themselves in the various political parties for the office of Imo Governorship, Emeka Ihedioha remains the best in all ramifications.
Okoli told Trumpeta that Ihedioha remains the only candidate who is in the race with the zeal and commitment to improve the living condition of Imo populace, and not for what he stands to gain personally.
The chartered Archtect and Consultant of high repute disclosed that with a person like Ihedioha incharge of Imo State, investors will troop into the State to develop Imo because of Ihedioha's character and pedigree which has no dent.
He maintained that Ihedioha has the managerial qualities to turn Imo State around from its present socio-economic quagmire, as the PDP Governorship candidate already has quantum of experience acquired from his exposure in interacting with men of vision and mission.
Okoli said the icing on the cake now is that Alhaji Atiku Abubakar is the PDP Presidential candidate stressing that when eventually Atiku becomes President, Imo State will be lucky with Ihedioha as Governor, because there would be a seamless relationship with Abuja and Imo as Atiku is Ihedioha's political mentor.
He said Imo State will witness a new lease of life with Ihedioha incharge, as the PDP candidate has promised to open up the Local Government Areas with elections in the councils and autonomy of LGAs, which he said will drive developments to the grass roots and reduce urban migration.
Okoli was optimistic that Ihedioha's regime will change the face of Imo State for better, because he will be accountable to the people due to his transparency with public funds, which he said is the reason Ihedioha remains free from fraudulent mentions after serving Nigeria and operating at the highest level at the Nation's capital, Abuja, as a presiding officer in the National Assembly.