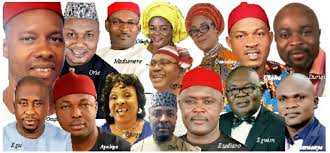 With the deadline INEC gave to parties for conduct of party primaries over and days for submission of candidates names about to expire, it has become crystal clear that some members of the Imo State House of Assembly are having their last days if legislative business at the hallowed chamber between now and May 2019.
This is because, most of them have no party tickets to run for the 2019 elections and there lost the chances to have another feel of legislative business for in the next political dispensation.
From the ruling APC to the minority PDP, the lawmakers that would be missing in action were unable to pick any party ticket for the next election.
Not likely going to witness action in the House is the Speaker, Rt Hon Acho Ihim and Deputy Hon Ugonna Ozuruigbo. While Ihim has no party ticket for any position, Ozuruigbo has stepped up for action in the House of Reps. After two tenures, the future ambition of Ihim from Okigwe State constituency looks bleak in 2019 evens Trumpeta findings has it that the fair skinned speaker succumbed to the wishes of the governor, Okorocha not to aspire for any further position to merit a Deputy Governorship slot should his anointed Governorship candidate Uche Nwosu gains the ticket for Imo APC.
Ozuruigbo, otherwise known as OZB is a one of the bankers for House of Reps for Isu/Njaba/Nwangele and Nkwerre, except turn of events scuttle his dreams. Others are member representing Aboh Mbaise State constituency, Hon Mike Iheanetu who after a two term wanted to be in the federal house to represent Aboh/Ngor Okpala, but lost out to the eventual winner, Hon Bede Eke, who grabbed a ticket for second term in office after the PDP primaries.
Next are Honourables Nkenna Nzeruo and Uche Ejiogu, representing Oru East and Ihittee/Uboma State constituencies respectively. Nzeruo formerly of the APC, who fell out of the Coalition faction of the party later defected to PDP to pick the Assembly ticket. However, luck ran out of Nzeruo as he lost out. The lost has knocked him out of contest except he goes for the ticket of another party. But for now, he is not among those listed to witness action in the Assembly in 2019.
Dr (Mrs) Ejiogu was also stopped from running for any position because of the zoning arrangement in Ihitte/Uboma politics that is sacrosanct. Despite efforts she made to thwart the rotational formula between the two clans; Uboma and Ihitte, the APC went for Bar Ononeze of Ihitte. Ejiogu, from Uboma took over from former Speaker, Senator Ben Uwajumogu of Ihitte. A review of the record shows one tenure rotation between the two blocs when it comes to the House of Assembly race.
A new person other than Chinedu Offor will be representing the interest of Onuimo in the Assembly irrespective of party platform. Offor is also a victim of the rotational policy in Onuimo politics.
Two serving PDP lawmakers who are from two Mbaise LGAs; Ken Agbim and Bruno Ukoha will also join Iheanetu to book exit after May 2019 as they failed to have a return ticket of the party for another chance in the legislative house. While Agbim fell to the Ahiara and Ekwerazu blocs rotational policy, Ukoha was a victim of internal politics of PDP in Ezinihittee LGA.
For Onyewuchi Ikonne of Owerri West, the issue of zoning in his area as well as the rejection stigma, may have also stopped his desire to go for another term in Imo State House of Assembly.
He may likely go back to his lecture room after 2019. His suspension from Imolites of Assembly somehow affected him as members of his constituency (Ikeduru) felt bad on the ill treatment.
Others to be missed are the Owerri North representative Chukwuemeka Lloyd who is in the race to grab APC House of Reps ticket for Owerri Federal Constituency, Ikechukwu Amuka of Orsu that his surrendered his Ideato Federal Constituency Reps ambition to another Rescue Mission family stalwart from his area, Dr Paschal Obi. After gaining two terms, no Assembly business for Amuka in 2019.
A businessman who joined politics and represented Orlu, Marx Odunze is also out after failing to grab any party ticket for 2019 election.