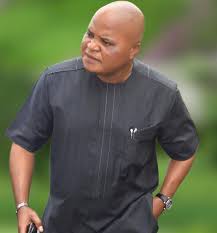 By Amaechi Kingsley 
The All Progressive Grand Alliance (APGA) has declared former Senator Ifeanyi Araraume their governorship flag bearer ahead of 2019 gubernatorial election.
According to the state Chairman of the party, Bar Peter Ezeobi last Friday at the party secretariat in Owerri, "APGA has finally settled for a governorship candidate, no more petitions among aspirants, we can now sleep with both eyes, God has sent us his son senator Araraume to deliver Imo people from 8years of misrule by present administration". He said.
Bar Ezeobi presented an APGA flag to Araraume which he said symbolizes victory for the party and Imo people.
In his response, Araraume thanked the SWC, stakeholders of the party and all aspirants. He expressed optimism that all candidates of the party will win and enjoin members of the party to lead the campaign for victory.
Araraume revealed that APGA was one of the first to submit names of candidate to INEC, adding that those who emerged from the party were the best.
He stressed that government of the day in Imo does not carry out the APC's manifesto and pointed out that the hours of those who have misruled the state are numbered as he promise to show them the way out of office in 2019.
According to him, "unlike Anambra, Imo today is totally different from what is obtainable there, if journalist can be objective in their reportage about Imo, Okorocha may live before May 2019".
Meanwhile, senator Araraume was greeted with a hero's welcome, with the state capital holding still to grace the fairy politician who waved to the public through the roof his vehicle.
Addressing the mammoth supporters that converges on his campaign office at Onitsha road, Senator Araraume maintained that through hard work, the collapsed systems and institutions in the state will be revived and a new leadership in the state will be defined.
He assures that with collective support, the people's vote will count and APGA will win in 2019.