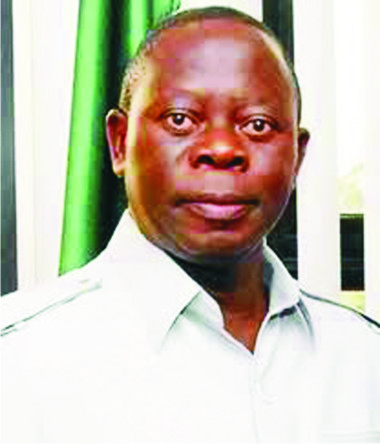 The story now is not whether the National Chairman of All Progressive Congress, APC, Comrade Adams Oshiomole appealed to the Arch Bishop of Owerri, Dr Anthony Obinna over his ordeal in the hands of Imo State Governor, Owelle Rochas Okorocha, but the issue is why Oshiomole rendered the apology to the top clergy.
Trumpeta can reveal that the APC National Chairman took the path when he was briefed on how the Bishop was humiliated by the Okorocha administration, which includes frequent insults on the Bishop on the pages of Newspapers by Okorocha's Chief Press Secretary CPS, Mr Samuel Onwuemedo, and a near assault on the Bishop at a burial some months ago.
Trumpeta also learnt that the Arch Bishop made personal representation to APC National Headquarters Abuja, where he complained of how Okorocha's Media Aides use him for their Press Release as if he is their mate.
Sources said that even the Coalition Group working against Okorocha went to Buhari with video tape evidences to show how Imo Government Officials hushed Bishop Obinna down from the pulpit while preaching a sermon during a burial ceremony in Imo State, with Okorocha's son inlaw and the Governor's anointed successor, Uche Nwosu and the wife present, without doing anything to rein in the Government officials hauling abuses on the Bishop, who later escaped from the venue.
Following these hard facts, Oshiomole had no alternative than to apologize to the Bishop onbehalf of APC for forgiveness.
Sources told Trumpeta that the APC National Chairman realized the power of the Catholic Church in Imo State, and quickly went to mend fences with the Bishop as his sore relationship with the Okorocha regime may spell doom for APC in Imo during the elections.
"The Coalition took video tapes and Newspaper cut-outs to Abuja to show Buhari and Oshiomole how Okorocha had destroyed the relationship that existed between APC and the Catholic Church in Imo State.
Therefore, Oshiomole after watching the video with President Buhari had to do the needful without minding Okorocha who is leaving office in four months time" a source in Abuja told Trumpeta.
Meanwhile, the Governor, Owelle Rochas Okorocha has described the Oshiomole apology to Bishop Obinna as a blackmail taken far.
In a release signed by Samuel Onwuemedo, Okorocha said that he has no problem with Bishop Obinna, saying that when President Buhari visited Imo on campaign mission in 2015, he led him to Bishop Obinna where they spent some time with Cleric.
However, Okorocha in the release said that the problem with Obinna is that he expects Imo State to be like heaven, which he says pitched him against former Imo State Governors, including him, Rochas Okorocha.